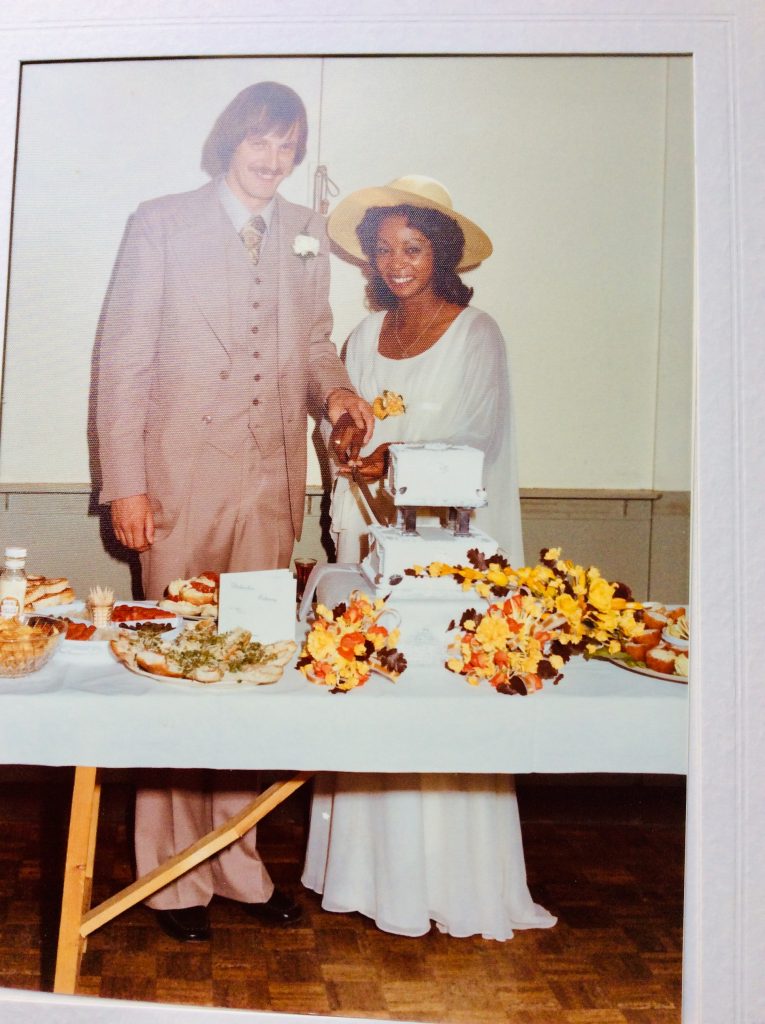 This year, July 27 th we 'celebrated' our 45 th wedding Anniversary. I say 'celebrate', in actual fact – we forgot until our youngest daughter sent a message congratulating us.
Funnily enough, I had marked it on the calendar, weeks before, but when the actual day came, we forgot. I scrambled through our wedding photographs and found one, I've not posted on FB before, but one which really tells the story.
Apparently, the cake cutting ritual originates from ancient Rome when the groom would break the cake over the bride's head and guests would scrabble for pieces to bring them luck with fertility. Fortunately, this did not happen to me. As I zoom into the photograph, I see two smiling, relaxed young people trapped behind a trestle table bedecked with a typical 70's buffet. Bryn is fascinated by the quantity and length of his hair. Me, I am intrigued by the range of fresher than fresh finger food and the contrast with today's equivalent.
Open sandwiches filled with egg mayonnaise (probably salad cream), tinned salmon and cucumber. Vol -au-vents, sausage rolls, quiches, cheese and pineapple on sticks spiralling out of a grapefruit, crisps, silver- skin onions, salad, sliced Ham, Beef and Turkey, or was it chicken? Fairy cakes, Trifle and Chocolate gateau and cheese and biscuits.
Simple fare on a shoe-string budget. The result of complex negotiations over months.
Present was relief and possibly joy.
Absent was constant guilt- tripping and accusations
Present were our closest friends, one member of my family and all of Bryn's family.
Underpinning it all was the kindness of strangers.
My first teaching post staff and pupils unbidden, rallied round with practical offers of help.
Linda: My mum runs a catering business she'd love to do your buffet, Miss.
Senior Mistress: You could get married in our church, all the Saturdays will have gone now, but I'm sure Reverend Simons would do a Sunday.
An avalanche of suggestions piled in for reception venues finally landing on Sandiacre Village Hall.
For once, my sleazy Head of Department wasn't asking me to pose semi -clad for him, instead he offered to do the photographs. Eventually arranging for a friend to take the photographs when he discovered he was double booked.
Questions?
There were many but there were far more answers.
Hold it.
Snap!