Many thanks to all of you who came to Soundbites last night (or whatever time of day it was for you!). It's a delight to have poets and audience from near and far.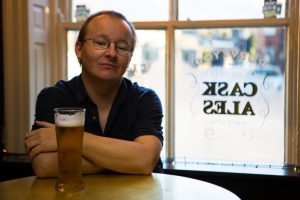 Our guest poet was Joe Williams: Writer, Poet, Performer put on a fabulous performance, and included some pieces from his most recent publication This is Virus available from https://joewilliams.co.uk/shop/
Below is the audio recording of Joe's reading with an explanation of the background to This is Virus and how the poems were made.
Joe is an award-winning writer and performing poet from Leeds. His latest book is the pamphlet 'This is Virus', a sequence of erasure poems made from Boris Johnson's letter to the UK during the Covid-19 pandemic.  His verse novella 'An Otley Run', published in 2018, was shortlisted in the Best Novella category at the 2019 Saboteur Awards. His poems and short stories have been included in numerous anthologies, and in magazines online and in print. Despite all of that, he is probably most widely read thanks to his contributions to Viz. www.joewilliams.co.uk
The open mic poets also amazing – there's so much going on in the world of poetry.
And thanks of course as always to our wonderful appreciative audience.
Look forward to seeing you all next month (14th September 7.00 pm) when our guest poet will be Linda Marshall